Accreditation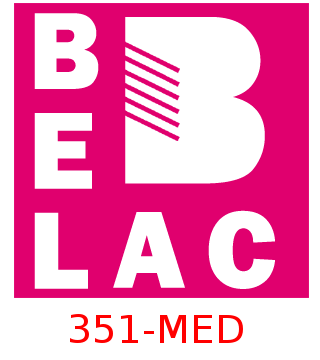 The Center for Medical Genetics Ghent (CMGG) is from the 11th of September 2008 onwards an accreditated laboratory.

ISO 15189 is the international standard for medical laboratories (ISO 15189 Medical laboratories - Particular requirements for quality and competence).

In this standard, rules are dictated to the management (management requirements) with the most important requirement, a good developped quality management system, specify technical requirements, for instance competent laboratory staff, use of patently validated methods, appropriate laboratory space and equipment and surveillance of environmental influences, high quality reporting of testresults.
In Belgium the distribution and control of these ISO-certificates are the task of "BELAC", the Belgian accreditation institution, that was founded in a legal scope and placed under the responsability of the Federal Government (FOD) Economy, K.M.O., Middle class and Energy.
The scope of the accreditation under certificate 351-MED (EN - FR - NL - DE) can be consulted on the BELAC website: 351-MED.
The tests and services under the scope of the accreditation are always performed under accreditation conditions.
Last updated: 15 December 2021 - 16:41
Copyright 2022 Center for Medical Genetics, Gent.